Activities and entertainment
Fun Galore
For young and old alike
Activities and entertainment
Fun Galore
For young and old alike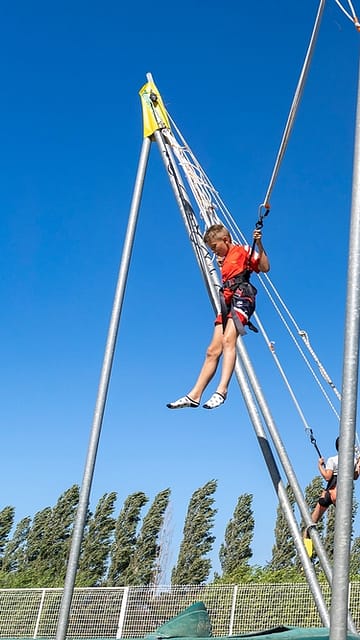 Have fun on the campsite in Argelès
1
mini golf and numerous
outdoor play areas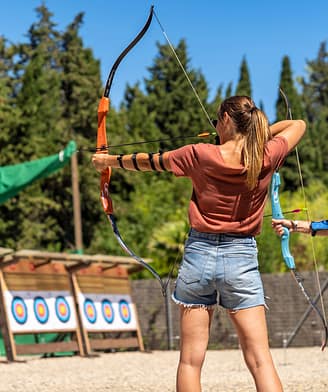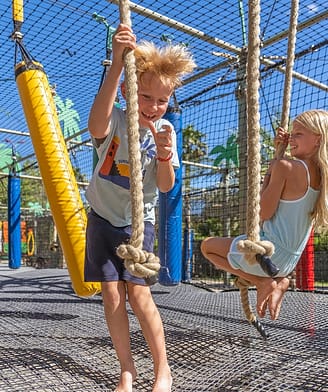 During your stay, experiencing "Sirène Holidays" is the guarantee of having an exceptional holiday in Argelès- sur-Mer, an amazing adventure for the entire family. Here young and old alike can relax, rest, but also have fun, play and share, all in an atmosphere with a feeling of sunshine and conviviality!
The "Pass-Loisirs" bracelet (leisure pass), included in the price of your stay, enables you to access and take part in all activities and entertainment organised by our 5 star campsites, La Sirène and L'Hippocampe. In addition, you can use all the sports and leisure facilities available on these two establishments located opposite each other. With Sirène Holidays, you also make the most of activities and evening events every day, even in the low season!
Take part in activities equally diverse and varied, activities organized by a dynamic and enthusiastic team, whose main task is to ensure you return home with your bags full of memories…
Display more
I came, I saw and I can tell you about it…
There are so many opportunities for fun with Sirène Holidays! Our teenagers loved it! Special mention for the Sportippo complex, a genuine temple of sport and leisure. A pumped-up activity team, overflowing with energy and high spirits!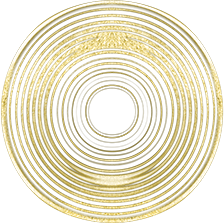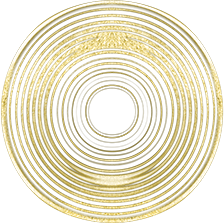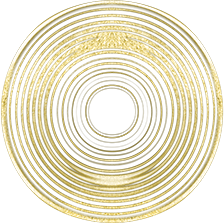 Play sports and have fun on the campsite
The Sportippo: Sports complex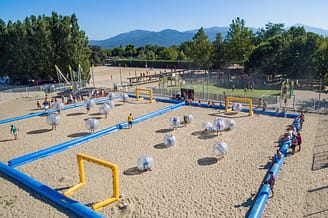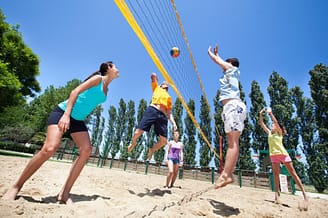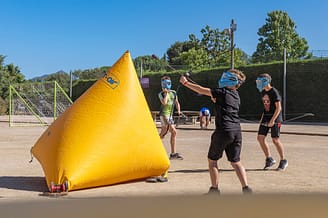 City stadium
Area for playing boules
Football pitches
Ping Pong
Beach Stadium
Play areas
Battle Archery
Trampolines
During your stay, you'll be able to discover the amazing range of facilities on the La Sirène and L'Hippocampe campsites.
A multi-sports ground with free access, provides numerous sports and leisure activities. Football, beach volleyball, basket ball, battle archery, beach soccer, bubble football, handball… These are offered and run by our activity team, and are intended as much for adults as children and teenagers.
Heaven for children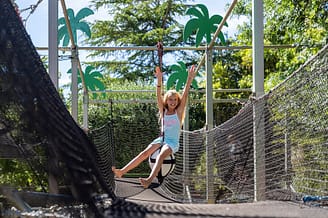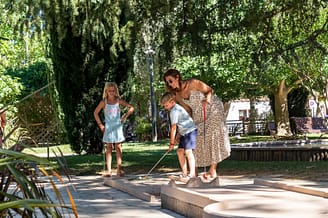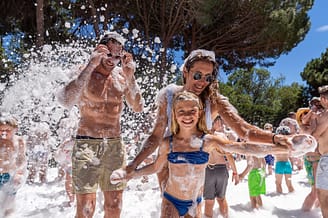 Minigolf
Foam party
Play areas
Family games
Children's club for those aged 3-12
Shows
Share special times as a family, thanks to the La Sirène and L'Hippocampe campsites. Heaven for children, our establishments have numerous facilities, specially given over to them, such as outdoor play areas or even a minigolf course.
The children's club enables those aged 3 to 12 to take part in numerous forms of entertainment and activities, equally recreational and sports-based. Lastly shows or foam parties are always enjoyed by youngsters and families, during their holiday in Argelès sur Mer.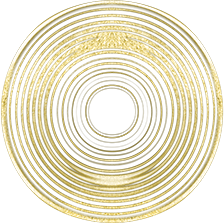 You're like a duck
to water at Sirène Holidays
Staying in Shape and Wellness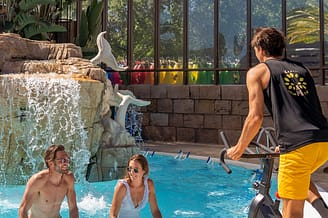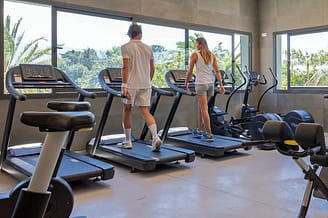 Aquabiking
Gym
Aquaerobics
Circuit training
Pilates
Massage*
To stay in shape during your Argelès sur Mer holiday, feel free to take part in our aquaerobics or Aquabiking sessions! If you prefer sports on dry land, fitness and Zumba classes are on hand for you! After all that effort, go for relaxation. To unwind after a sports session, treat yourself to a massage by the water*…
Another popular facility is the campsite gym, open and accessible for free every day during the opening season. Make the most of our high-end facilities to work on your bodybuilding and cardio! Please note that gym access is reserved for adults (flip-flops prohibited and towel compulsory).
*Massages are not included in the stay price.
We offer activities every day even in the low season. The nature and programme of activities may vary…
A wide choice of partners
for your outdoor activities
The Sirène Holidays Nature advantages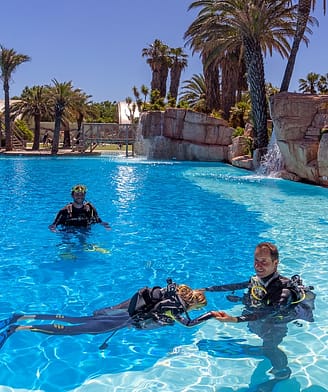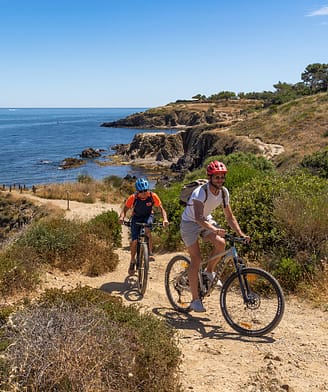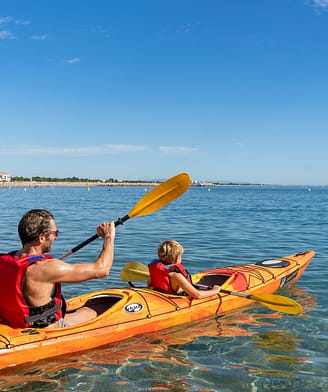 Amongst the land, sea and mountains, Sirène Holidays connects you to nature, your nature… By choosing to spend your holiday on one of our establishments, you will enjoy excellence and comfort, in this land blessed by the gods, which hides numerous treasures…
Scuba diving*
Mountain-biking descent*
Snorkelling*
Stand up paddle boarding trips*
Sea kayaking*
Beginners' Optimist dinghy*
* paying activities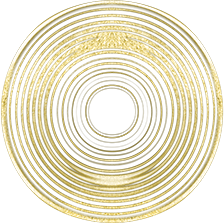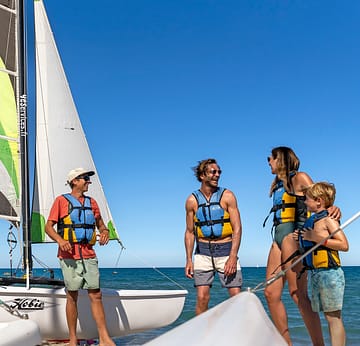 For more than 30 years, we have developed with a team of independent professionals in Argelès and the region discovery packages for activities adapted to all ages, whatever your level, from beginner to expert.
With Isabelle, Jérôme and Hugo, discover the benefits of slow tourism with gentler and "low impact" activities. "Dare you" go under water, on a boat, kayak, stand up paddle board or bike…Here, in Catalan Country, you let go, you go, you breathe, you sweat and especially, you live!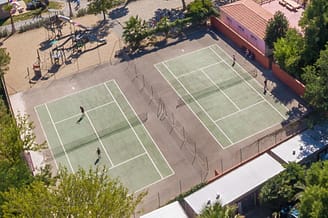 Tennis court
Two tennis courts await you on the La Sirène campsite. Access courts for free.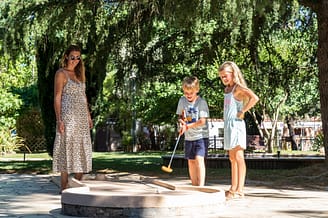 Mini golf
Heaven for children and their parents, those aged 4 and upwards can use the mini golf course.
Archery
Our activity leaders run beginners' archery sessions for children and adults.
Volleyball court
For volleyball lovers, there is a large court for your matches with friends.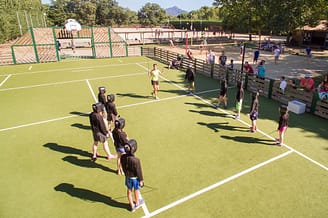 Multi sports ground
There is a city stadium that everyone can use, at any time during the day, to play ball sports.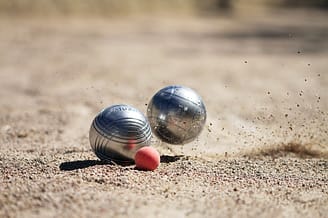 Petanque court
The pétanque/boules court, a must-see on the campsite! For playing as a family or with friends, but also in tournaments with other holidaymakers.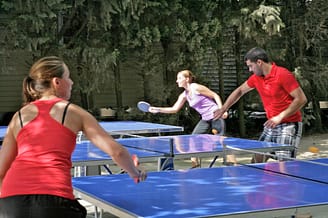 Table tennis
Ping pong tables have been set up on the La Sirène sports complex. Accessible to everyone at any time during the day.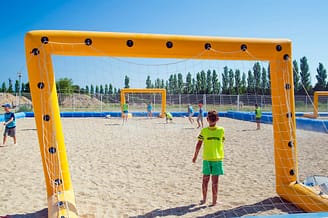 Beach soccer
There is a large beach soccer pitch to play football on the sand!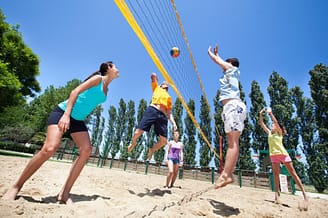 Beach volleyball
Challenge your friends on the beach volleyball court's white sand. Fits of the giggles guaranteed!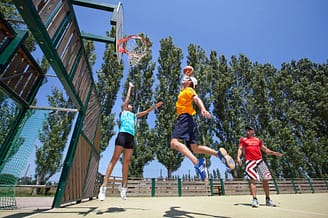 Basketball court
There is a basketball court to make baskets and have wild matches…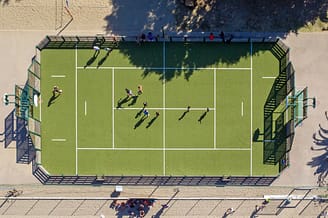 Football pitch
The favourite grass pitch for football lovers, popular with children and teenagers alike.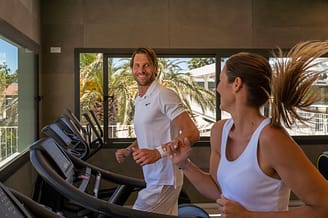 Gym
Having numerous types of fitness and bodybuilding equipment, to work on your muscles and cardio.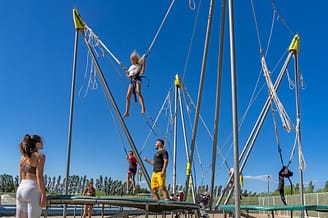 Sports activities
Organized during the day by our activity team for children and adults alike.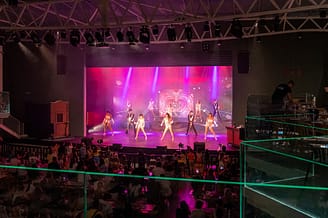 Shows
At the Sirène Arena, discover evening shows for all ages.